VP of Business Development – Nathan Driscoll
New VP of Business Development, Nathan Driscoll, talks about his new role at AgeChecked and the importance of age verification in an online world.
1. Tell us a bit more about your role as VP of Business Development at AgeChecked.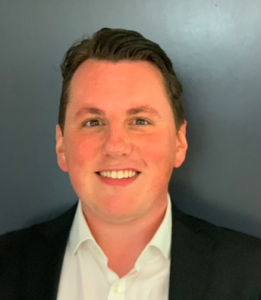 I'm lucky to have the opportunity to work across all of AgeChecked's stakeholder groups. Whether I'm dealing with our channel partners and suppliers or working with clients, my job is to ensure we understand the needs of the market, and the solutions available to us, so we're delivering the best possible service to our customers.
2. How will you use your skills and experience to help AgeChecked to grow as a business?
I have spent my career so far working in data and software solutions, primarily in regulated industries. This has given me good insight into the challenges our clients and their customers face in digital onboarding.
The technology AgeChecked employs in meeting those challenges is amazing. My goal is to maximise the value we can deliver by applying that technology across the use cases and international territories our clients address.
3. What do you enjoy most about your role?
Solving problems! The best customer journeys find a balance between optimising the user experience, meeting regulatory compliance and providing services responsibly. Given increasing regulatory burden, the diverse challenges global markets provide and increasingly sophisticated customers, that's a difficult balance to strike. Because AgeChecked are specialists in what we do, and because we're agile, it means we're in a great position to help solve those problems.
4. What kind of challenges do businesses face when selling age-restricted goods online and how can you help?
Balancing the user experience with their regulatory burden is increasingly difficult. Because we're able to deploy various methodologies to address these problems, we can help businesses comply and provide their services responsibly without adding unnecessary friction to their customer journey.
5. What do you think is next for the age verification industry?
E-commerce has grown exponentially over the past decade and that growth has been exacerbated by the pandemic. Consumer behaviour and their expectations have also changed dramatically. That means that businesses need to find ways of providing age restricted services without turning legitimate customers away.
There are also some really interesting regulatory developments both in the UK and in the EU, such as the AVMS directive and the EU parental consent project. This is likely to mean the regulation of age restricted services such as adult content and gaming will be aligned more closely with age restricted goods.