Meet The Team – Jake Birrell
Tell us about your role at AgeChecked as an Operations Manager?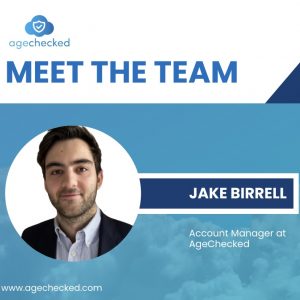 As the operations manager at AgeChecked, it's my responsibility to ensure our clients are getting added value above and beyond what they would expect from a KYC provider. I manage our client onboardings ensuring the process of integration goes as smoothly as possible. It's incredibly important to us that the integration of our solutions helps our clients go to market much faster than they would otherwise be able to. In addition, I use our data analytics tools to ensure our clients get the most out of our services. I can use these insights to recommend to our client's the best practice to obtain the highest possible conversion rates by providing their customers with a frictionless customer journey. As a company striving for the best possible solutions, we are always looking to improve, as we are often releasing new and improved solutions and I ensure our clients are perfectly positioned to take advantage of these.
I use our data analytics tools to ensure our clients get the most out of our services
What are the main duties which you take to ensure that you form strong relationships with clients?
From the outset, I take the time to learn about our clients' requirements. To achieve the highest conversion rates and optimised customer experiences, we must tailor our solutions to be specific to each client. This includes learning about the existing structures in place on their websites, their key demographics, and any sector-specific trends. I will recommend best practice according to these requirements and provide constant support throughout the integration process. Upon successful integration, I will continue to monitor the progress of the solution to ensure it remains up to date with our developments and benefits from our insights. This hands-on approach to providing a service as opposed to just the technology builds trust that we're focused on delivering each client the best possible outcomes for their KYC solutions.
What do you enjoy most about your role?
Without a doubt, my favourite aspect of the role is the relationships I get to enjoy. As a company with a loyal client base, I get to know our clients extremely well and over a long period. I've gotten to know an incredible array of individuals from different walks of life from which I've learnt a tremendous amount.
What do you think is next for the age verification industry?
Increasingly there is a concern for the total access under 18s can have to everything the internet can offer. In the last ten years, there has been an explosion in the ability of not just teenagers but young kids to access the internet in ways parents can't monitor especially when it comes to video content. I do believe there will be increasing calls for companies to have these protections in place before minors can access their services. As a result, we will see age verification become an increasingly governed requirement on the internet especially in the case of video content providers.
Why do you think clients should choose AgeChecked over its competitors?
As the operations manager, I see first-hand the attention we pay to ensure the end-user experience is optimised. I strongly believe this attention to detail for each, and every client is not available to nearly the same extent as any other providers out there. We are partners to our clients, this makes all the difference in allowing our clients to trust us, they know whom to go to should they want anything. In addition, the public is becoming increasingly concerned with their privacy and as such an anonymised platform such as ours is unique. As the public becomes increasingly familiar with age verification systems so too will their concern grow for the use of their data. For our clients to be able to assure their customers that their solution does not store customer data, I believe will become a huge advantage.