Honk For Plonk!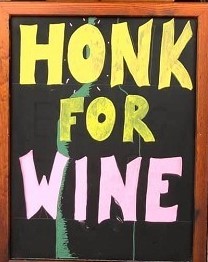 Recently, this sign caught our eye in Derbyshire, where an enterprising wine merchant has taken their business online and is offering a 'Toot for the boot' collection service. This service allows you to order alcohol and have it placed directly in your car.
But, with driving lessons starting back up again this week, we wonder – what is to stop a 17 year old from picking up a crate of champagne to celebrate passing their test?
Of course, the answer is age verification, when they place their online order. However, with many businesses reinventing themselves on the internet, there is a lot of debate regarding what the law actually requires.
With thousands of policy documents, regulations, guidance and advice, the rules on the face-to-face retail sale of alcohol could not be clearer.  But, for web sales, there is little or no authoritative guidance.  A quick search of most local authority websites reveals little or no advice to those considering selling alcohol online for delivery from premises within their area.
It's clear that a premises licence is required and that it is an offence under s146 of the Licensing Act 2003 to sell alcohol to children. A defence, when charged with that offence, is that all reasonable steps were taken to establish the individual's age.
The Home Office advise that anyone selling alcohol online or by phone should already be taking steps that go beyond an "I am 18+" tick box to verify age at the point of sale.
"The Home Office advises that anyone selling alcohol online or by phone should already be taking all reasonable steps to verify age at the point of sale in order to avoid committing an offence of selling alcohol to a child.  PAS 1296 is a good point of reference for these steps."
Andy Parsons | Alcohol Policy Implementation Officer
PAS 1296 is the BSI's standard code of practice for online age verification. It defines the level of assurance required to confirm a customer's age for any given purpose.
Nevertheless, the legal requirements to verify age on delivery of alcohol are relatively weak.  The law does not require that alcohol is delivered to a person. This means that it can be left in the porch or in an agreed safe place with no human interaction at all. More recently, we have found that delivery drivers are now generally not interacting with customers, mostly leaving goods on the doorstep.
For the sale of age-restricted goods in general, but specifically for alcohol, this means that it is unlikely Challenge 21/25 procedures are being followed at the Point of Delivery; and any licence conditions preventing the sale of alcohol to those who are already intoxicated are not worth the paper they're written on.
This could easily lead to bored children, now confined to home for much of the day, successfully ordering alcohol online for delivery. This is could come from a specialist wine supplier, or as an addition to a fast food order dropped off on a moped.
The House of Lords debated the issue of digital age verification earlier this week; and while further industry standards are still in development, the government expressed strong support for making progress on this issue.
For responsible businesses, and indeed those nervous they might become a test case for their local council's trading standards team, a good back-up position is required. We would suggest that business owners insist on effective, independent, standards-based (BSI PAS 1296) age verification at the time of the online purchase.  At least that way you can prove an adult has been involved at some stage in the process.  If this is done, retailers could be given some temporary leeway for not conducting age checks on delivery.
There may be some legal technicalities to implement this as an interim measure, but we can see this becoming a bigger problem as the lockdown period goes on.  Even some informal guidance to online retailers (who are of course increasing in number by the day as retail closures impact) that they should at least check age rigorously at the point of the online purchase, would be a welcome step.